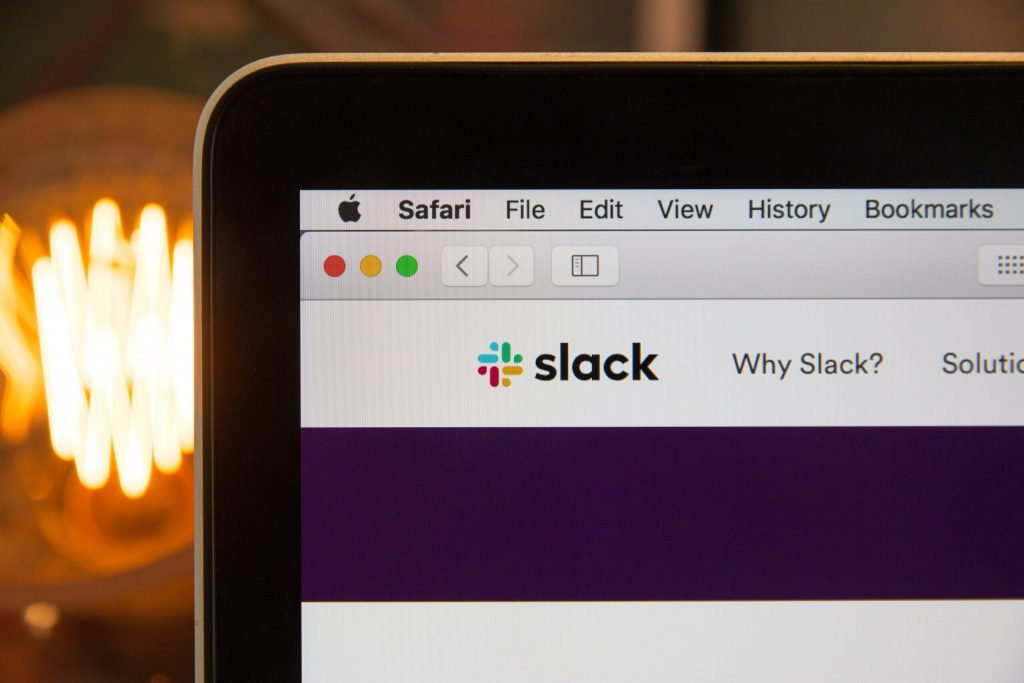 What is Slack?
Slack is a popular tool used largely to communicate between coworkers, replacing disparate calls and emails, but it can also help track projects and foster company culture. The goal of this software is to fully replace email and cut down on phone calls and in-person meetings in order to truly change the way people work and make collaboration more efficient. It feels like a company-wide social media; communication across channels is intuitive and similar to social media conventions with tagging, comments, and reactions. Some of the features include "channels," which are the core function of Slack as well as direct messages, voice and video calls, third party application integrations, workflow automations, and file sharing.
Channels are like social media pages or groups, they are places to keep all communication about a certain project or topic in one place as opposed to multiple emails across multiple inboxes. Channel names are functional and start with a "#" similar to tagging features already found online. For example, there is a #general channel for every single person at the company and possibly an #announcements-only or #it-questions channel as well. Everything except #general is customizable! Channels can be either public or private so that some topics like #new-hires can be kept secure. You can mention people using "@" to bring a specific person's attention to an item.
Why is Slack better than email?
Quite simply this is better because it is organized, searchable, and everyone can see it all at once. How often do you waste time looking for that one attachment in that one email only to find that you deleted it? Instead, you could use the search function on Slack, or glance at the pinned posts section of a channel specifically about that topic. How often are you interrupted by a coworker dropping by or several emails arriving and pinging all at once? Instead, just set your status to "away" and answer the question that your coworker typed into the appropriate channel when you are ready. How much time do you waste at meetings catching up with what everyone else is doing? Instead, read all the updates for your team and others to stay up to date without wasting time. Slack is better than email, because it is made with productivity in mind and because the features are simple and familiar. For a nonprofit organization, efficiency and productivity are critical in making the most of limited resources.
Is Slack actually free?
Typically tools like these are outrageously expensive and therefore inaccessible to nonprofits.
However, Slack does have a version that is free for an unlimited period of time and with an unlimited number of members. While there are some limits to the features, a small or basic team should not need much more! In fact, only 3 million of Slack's over 8 million users are paid. That means 5 million people get exactly what they need from the free version. Should your organization need (or want) more features, eligible nonprofits do qualify for a free upgrade to the Standard plan for up to 250 members and an 85% discount for a larger Standard plan or the Plus plan at any size.
How can my nonprofit get Slack for free?
There are a few hoops to jump through, but I am sure you are used to it by now. An eligible nonprofit must first hold charitable status with either the Internal Revenue Service (IRS) in the United States, a local commission, or a local TechSoup Global partner. The organization also must NOT be:
A legislative or political activity organization
A church, association of churches, or other religious organization
A school, college, or a related organization (try Slack for Education instead!)
A government office
An organization that attempts to influence public opinion
A hospital, organization involved with health insurance or group health plans, or a related organization
A private grant-making, independent, or operating foundation
Furthermore, your organization CANNOT:
Discriminate on the basis of gender, race, ethnicity, national origin, religion, political affiliation or beliefs, sexual orientation, or gender identity or expression
Promote a particular religious affiliation, dogma, or doctrine as part of its mission or in exchange for its services (being affiliated with a religious organization is not in itself disqualifying)
To get started, you will start a workspace and then apply for Slack for Nonprofits. Find more details here!
How do I use this Slack thing?
Now that you have Slack for free or at a great discount – what do you do with it? Essentially Slack is an advanced chat room and keeps all of your communications, files, and questions in one convenient place. It helps eliminate in-person interruptions, fosters remote work (increasingly important in light of the COVID-19 pandemic), and keeps everyone in the loop without having to hit "reply all" every single time. Each channel has a topic such as "#marketing" or "#new-project-launch." Each channel has an "owner" who is responsible for the channel and project and is accessible by relevant team members. You are also able to directly message individuals and create private channels for more sensitive information such as finances or hiring. Other features include:
Upload and store files to keep everything necessary to the job in one place
Mention specific people bringing their attention to an item
A mobile app for convenient communication anywhere
Direct messaging to groups or individuals
Calendar-like function of setting reminders for meetings and deadlines
Video conferences
Ability to search messages so nothing is lost
Stay organized with hashtags similar to social media
Save items with pins and stars
Building on the social media feel of Slack, there is an option to start a channel just for chatting, sharing photos, and joking. Do not worry – if your team gets distracted they can turn notifications on "Do Not Disturb" to keep productivity as well as morale high. If extra focus is needed, you are able to set your status to "Away" to keep others from bothering you.
What are the lesser known features of Slack?
In order to increase productivity, check out these additional tips from entrepreneurs:
Every few weeks the whole team can participate in "around the horn" conversations to keep all teams updated on everyone else's projects. This is more productive than a massive video conference and anybody who misses the meeting can check in afterwards without missing any details.
Set up integrations with other tools such as teamwork.com, Zapier, Salesforce, Google Analytics, and more! This helps keep all your tools in one place.
Stay transparent by reporting every morning, asking each team member to share the few items that are most important to them to complete for that day. This helps everyone stay up to date and allows the opportunity for collaboration.
Use the search feature to keep track of all questions and answers, which can also be compiled to create an employee handbook.
Use "/remind" directly from the messaging field to create automated reminders
Connect your engineering, quality assurance, and project management teams in sync with everyone else by notifying teams when tests fail or other issues pop up.
One of the benefits of Slack is how versatile it is. Other competitors tend towards "vertical integration of features" while Slack allows integration with a large variety of third party products and services including developer tools, file storage services, project management tools, and social media platforms. You can even integrate an app that your own team builds. This functionality allows almost endless customization, allowing your team the freedom it needs to get the job done. To further its flexibility Slack operates on many browsers and both the mobile and desktop applications are available on multiple operating systems.
The sign of a truly genius software is solving a problem that you did not even know you had, which Slack does with features like this. When emailing a link to an article, typically you have to spend time explaining the purpose and context of the link. While this may not take up too much time, it is something that Slack has made more efficient automatically generating a description of any link posted in Slack. Other time savers include the ability to check emails and calendars from within slack, sharing to-do lists, and bots that send out notifications.
How does Slack use Slack?
Forbes spoke to Slack's Head of Internal Communications, Amanda Atkins, about getting the most out of their software. She suggests increasing productivity by personalizing and customizing channel views, notifications, workspace organization, personal status (away or available), setting reminders, creating an "agenda" channel for your next one-on-one, and creating integrations with Workday to approve time off, Concur for expenses, and more. Here are four specific tips:
Make sure your business channels have a clear naming structure, but do not forget to have fun with your social channels!
#announcements-<team name or location>
#proj-<name of project>
#help-<topic>
Use public and private channels appropriately to avoid confusion.
#announcements-global is only for things that every single employee needs to see
#help-internal-comms is for anyone in the company reaching out
Keep executives visible and engaged whether it is having an executive weigh in on #slack-culture, managing a situation on a private channel, or engaging with teams on a social channel.
Embrace transparency and create an environment where even the tough questions get answers!
Troops spoke to the former Sales Enablement Manager for Slack, Tom Pae, and he also had some tips. Pae echoed Atkins' sentiment of the importance of naming conventions, but has some other practical tips as well.
Use proper naming conventions.

Use #<topic>-external for any channel that includes guests
Try #<department>-plz for asking a specific department a question
Utilize a new channel for every project

Create code words with emojis.

"Eyes" emoji means a request has been seen
"Question mark" means there are additional questions
"Check mark" means the request is completed
Use other emojis to vote for event locations or team lunches!

Use keyboard shortcuts Command+K or Ctrl+K to open the search bar immediately – start typing and results will appear.
Try the "polite raccoon emoji" to indicate someone is using the wrong channel. This quickly and gently reminds the user to take their conversation elsewhere.
Tip: Install the "Reacji Channeler" to use specific emoji reactions to copy a message to its correct channel and continue the conversation there.
Curate your channels so that you are only in channels relevant to you. Feel free to go in and out as they become relevant to you.
Use the "pinning" function to keep the most important items in a channel at the top in "Channel details."
Make use of the activity feed to get updated on all your channels at once. Find it under the "@" symbol or from the menu button on mobile.
Utilize a single channel titled #announcements-only exclusively for company announcements, meaning posters do not respond to comments or reactions and questions should be asked elsewhere.
Make as many channels as possible public so that everyone can stay updated.
Use discretion when using mentions like @everyone, @channel, and @here to make announcements in a channel otherwise it "becomes really noisy."

@everyone notifies every person in the #general channel, which every single member is automatically added to
@channel notifies everyone in a channel regardless of whether they are "away"
@here notifies only currently active members of a channel (this is the safest option)
Commit to using Slack on a company-wide basis for best effects. Even C-level leaders should be using Slack more than they are calling or emailing.
Want to see more advice on how to use cutting-edge software to help you nonprofit meet its goals? Check out our guide to using Venmo as a nonprofit!
By Rebecca Law