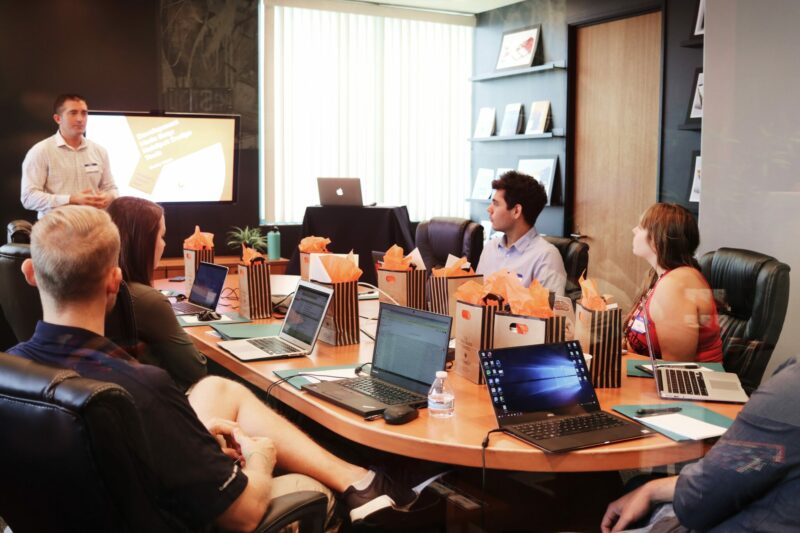 Working at a nonprofit organization can be exhilarating. You are on a team of people who are driven to make the world a better place, and every day is another step toward that goal.
Regardless of your position, you will likely see a lot of variety in your workload at a nonprofit job, from fundraising events to direct client work. And contrary to popular opinion, many nonprofits pay better than private companies when you take benefit packages into account.
The trick, of course, is getting the job in the first place. Whether you're just entering the job market or switching tracks after a career in the private sector, finding a position in the nonprofit world may seem daunting. To help, we have prepared a guide for finding and getting the right nonprofit job for you!
1. Know Yourself and Your Skills
At first, you may be tempted to start sending out your resume to anyone who is hiring. However, it is unlikely that you'll make a convincing case for why someone should give you a job if you don't know why you're applying to that job in the first place. That's why the first step to finding a nonprofit job is to take a good, hard look at yourself and figure out exactly what you want and what you can offer.
In the private sector, all you really need to land a job are relevant skills and accomplishments in the kind of work you're seeking to do. These are equally important in nonprofit work as well, but there's another key element: passion for the cause. Nonprofit organizations want to hire people that care about their mission. By honing in on the kind of work that truly motivates you, you will avoid wasting time applying to jobs that aren't right for you, while also preparing you to explain to potential employers why a particular position is a good fit.
What causes do you care about? Nonprofits work in a variety of fields, including education, public health, criminal justice, poverty relief, animal welfare, the arts, and more. Is there a particular area that you feel passionate about? Is there a specific population you'd like to serve?
Then, you should think about what positions you should seek out. Nonprofits share a lot of positions with the private sector, like accounting, human resources, marketing, and IT. But there are some jobs that only exist in nonprofit organizations. Outreach coordinators connect with the communities they serve, overseeing activities like events and volunteering. Employees working in development find and build relationships with donors to make sure the organization stays financially robust. Grant writers are tasked with composing grant applications to fulfill the development team's goals.
To help narrow down your search, think about what tasks you're good at, and what tasks you like doing. In previous jobs, or even volunteering positions, what kind of responsibilities excited you? Do you like working independently or collaboratively? Do you want to be in an office preparing documents, or working with people out in the field? If you're having trouble narrowing your scope, you can use a self-assessment test like the Campbell Interest and Skill Survey, Skillscan, or the Meyers-Briggs Type Indicator.
2. Start Hunting
Once you've gotten a good idea of the kind of work you're best suited for, it's time to take that self-knowledge to the job market.
The easiest route to start looking for a job is to use search websites. Places like Encore and Indeed are well known, but you'll probably want to use nonprofit-specific sites like Idealist and the Nonprofit Times' job board. You can take a different approach as well by first identifying the specific organizations you'd like to work with and regularly checking their website career portals for new listings that may not make it onto search sites.
You may also be able to hear of new openings before they're even posted, if you have existing connections with nonprofits. You may have friends or family who know somebody in the field you're looking to work, or you may have built a relationship with a nonprofit from earlier volunteering experiences. Once you get the word out that you're looking for a nonprofit job, you may be surprised to find you had a network that you never knew existed!
For a more proactive approach to networking, try attending conferences. There are many huge nonprofit events each year, like SXSW, the Nonprofit Technology Conference, AFP ICON, Upswell, Engage for Good, and the ANA DC Nonprofit Conference. Some people might feel awkward trying to build professional relationships with strangers at these events, but draw on the self-reflection you did earlier and remember that you have important passions and necessary skills to bring to the table.
One final way to get information about available jobs and build your network is through informational interviews. If you're interested in a particular company, you can find current or former employees on their website or through LinkedIn, and then you can reach out to have a conversation about their experience working there. You may come away with information about openings that haven't been made public, as well as a relationship with someone who may recommend you if you apply.
3. Take A Chance
After you've found a job that fits your needs and skills, there are two key documents you'll have to prepare: your resume and your cover letter. Before you get into the nitty-gritty details of each one, think about what you're trying to accomplish in broad strokes. Your application needs to perform handful of functions: demonstrate that you have the necessary skills and accomplishments to perform well in the position, show that your personality will get along well with the team, and convey that you share the organization's passion for its mission.
Since that last point is so important for the nonprofit sector, let's look at how to best communicate your interest in an organization's cause. Don't worry if you haven't already held a position in the organization's field—everyone has to start somewhere. If you lack experience that proves you really care about their work, try volunteering with the nonprofit or another doing similar work.
You can also try join the board of a nonprofit, which will give you more direct leadership experience and a sense of what it takes for a nonprofit to run smoothly. You can find opportunities for both volunteering and board membership on places like Idealist, Volunteer Match, and BoardnetUSA. Another way in is to secure an internship, which in the best cases are paid and can be found through the usual job search sites.
Your resume should give a concise and easy-to-read list of your work, volunteer, and education experience. You should list your main responsibilities, highlighting the skills that you have in common with the job you're trying for. Whenever possible, mention specific accomplishments, like cutting costs in half, or doubling the endowment in three years. This will show that you have a history of success that you will bring to your new job.
The cover letter should not simply be a re-telling of your resume. Rather, it's a chance to tell your story and share who you are: what experiences—personal and professional—led you to apply to this job? How do you share the nonprofit's passion for its mission and its vision for change? Hiring managers want to know why you want this job, not just a job. In addition, if you've learned of particular challenges the organization is facing from your research and informational interviews, mention how you would help tackle them.
As always, double-check for typos. If you will care about details while on the job, then you should care about them in your application. In terms of writing style, avoid industry jargon as much as possible. Be authentic and professional.
4. The Interview
If you've been asked for an interview, congratulations! Even if you are not selected for the position, it means you're on the right track.
To perform best in an interview, you should be relaxed and be yourself. This may sound easier said than done, but there is a way to make sure you are confident and calm during the interview: prepare. Go through the questions you will likely be asked in the interview, and rehearse authentic, detailed, and concise answers. It's like learning the lines to a play.
Most employers ask fairly similar questions of each applicant: Why do you want this job? What is your professional background, and what are your goals? What are challenges you've faced in previous positions, and how have you successfully dealt with them?
If you're applying for a leadership position, your interviewer will likely want to understand your leadership style. Who were you responsible for leading? Where are they now? How did you help the organization grow?
Again, this is why the work of self-discovery and self-reflection is important. If you have a solid understanding of who you are, what work you do best, and what causes and responsibilities motivate you, you will be able to walk in to an interview confidently, knowing that you have something necessary to offer.
An interview is about seeing if you are a good fit, which means it is also an opportunity to see if you actually want to work at the organization yourself! Follow your curiosity and prepare questions you want to know about your potential employer. How do they measure success? What will the on-boarding process for your position look like? What are the organization's plans for the future?
If there's a takeaway from this article, it's that knowledge is power. The better you know yourself and the nonprofits you're looking to apply to, the greater chance you have of success. Good luck!
By Alexander Jusdanis