7 ways to boost click through rates for your 501c3 nonprofit
You probably feel like you put a lot of time and energy into your email marketing without a return to match. With all the tools already in your tool belt, how can you craft emails that make people want to click through to continue their journey with your 501c3 nonprofit?
Believe it or not email is still one of the most powerful means of communication any business or nonprofit organization has at its disposal. Email is direct, effective and converts better than just about any other forms of digital marketing.
Overall email marketing has one of the highest returns on investment of any form of marketing with an ROI of $42 for every $1 spent. Though it may feel antiquated at times, email is still a big converter for businesses and nonprofits alike.
With decades of use under our belt marketers have been able to zero in on what makes an effective email and create email marketing best practices that can help a business or nonprofit in any sector create more engaging and clickable emails.
Here are 7 ways you can increase the click through rate of your next email campaign…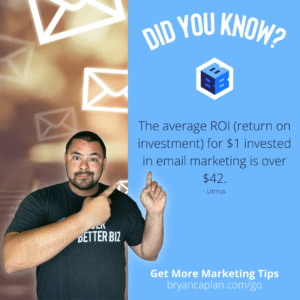 Make Every Image A Link
The first step to increasing your email click through rate is to simply make everything clickable! After decades of internet usage we have all become trained to think that everything is clickable. If someone goes to click on an image in your email and there is no link attached you just lost out on an opportunity to take them somewhere else.
Don't just stop at photos! Make graphics clickable as well. Everything in your email that isn't plain text should have some kind of link attached just in case someone clicks it.
Use Buttons and Text Links
If you want people to click you have to let them know. Utilize buttons and text links to point to other content obviously and naturally throughout the text. Just be sure to limit yourself to 3 links so you don't overdo it. Too many links will also decrease your click through rates because it gives your readers too many choices and options and causes analysis paralysis.
A couple of supplementary links in your text will work nicely and give your reader a place to go if they want more information on the topics you are discussing.
CALLOUT: Need help figuring out what to write in your emails? Watch this recent Constant Contact webinar
EMBED: How to Write Email Marketing Campaigns For Any Situation [Constant Contact Tutorial]
Focus on Mobile Formatting
When was the last time you took a look at your email formatting? Poor email formatting can be a big hindrance to engagement, especially on mobile.
Did you know that up to 46 percent of emails are opened on a mobile device?
Make sure all of your emails are mobile friendly before ever hitting send. If you aren't using a mobile-friendly template send yourself a preview and open it on your smartphone before you schedule a send to make sure everything is readable and rendered correctly.
Also pay attention to width and responsiveness. You want to use a template that is responsive so it looks good on a variety of screen sizes.
If you want your readers to take a single action then using a one-column layout is your best bet because it is simple and focused. Multi-column layouts are great for emails with more content but take extra care to make it simple and test out its responsiveness since those tend to render poorest on mobile.
Front Load Your Content
If you have a lot to include in an email, make sure you put the most important things at the top. By front loading your emails you will grab the attention of passive readers and scanners. You want them to get the gist right away so they will continue to engage with the email.
If you leave the important stuff for the middle or bottom people may scan your email and just pass it by without proceeding further, missing the information that will actually grab their attention and make them take action!
Use One Clear CTA
A big reason why you might not be getting the clicks you want is that you have too many calls to action. Each email send should have one single clear call to action. If you provide your reader with too many CTAs they will feel stuck and not know which one to click to proceed.
Within the body of your email use one clear and direct CTA so the reader knows how to continue their journey with your 501c3 nonprofit.
Format your CTA so that it is clear even to a scanner who is reading your email quickly. Use a different color or bold font or better yet, add it into a button! Make sure your button stands out but keep it in line with the rest of your branding and the aesthetic of the rest of your email. Also format your CTA to the center or to the right so the reader doesn't have to do any extra work getting back to it after reading your content.
Use The Right CTA
Using the correct CTA is just as important as formatting it correctly. You want to use words that tell the reader exactly what you want them to do next. Do you want them to donate? Tell them! Do you want them to read a blog post? Tell them!
You do have a little room for creativity in your CTA even though it may not seem like it. Don't be afraid of using words that evoke emotion, especially when you are trying to get people to donate money to a worthy cause they have already expressed interest in.
Also use action words! Your CTA should include some kind of action so the reader knows to click it to take that action.
Examples of great CTAs for 501c3 nonprofits include:
Donate Now
Commit
Volunteer
Support
Give
Sign Up
Donate Here
Make A Difference
Make A Change
Start Today!
Join The Fight!
Get Involved!
Take Action!
Support Our Mission
Make Your Voice Heard
Help ___ In Need
Keep Branding Consistent
If you want people to click they have to trust the sender. A great way to ensure that your emails come across as trustworthy is to make sure that your branding is consistent with your organization's website and social media. Use the same colors, fonts and logos to make the email look and feel like it comes from your organization. If people signed up for your email list they are already familiar with your nonprofit organization — use that familiarity to build trust right from the moment they open the email.
Wrapping It Up
Now that you know some of the best practices it's time to put them to use. Making simple structural and messaging changes can improve your click through rates and overall email engagement over time. As you get more used to what works you will be able to tweak your messaging to make it work even more effectively. Coupled with best practices to increase your open rates your email program will be rocking and rolling in no time!
About the Author
Bryan Caplan is all about helping you build a bigger, better business. A national speaker for Grow with Google and Constant Contact, award-winning CEO of Bryan Caplan Marketing and host of the Bigger Better Biz channel on YouTube, Bryan works with entrepreneurs around the world, teaching and coaching on digital marketing topics to help small businesses grow and succeed.
Bryan is a guest lecturer at several colleges and universities throughout the country. He has also been featured on Inc, GoDaddy, Constant Contact, SCORE.org, and the Boston Business Journal. Connect and Learn with Bryan by visiting https://www.bryancaplan.com/go.