Google offers the Google Grant for AdWords, but another free resource your nonprofit should be utilizing is Google Analytics. Why should you use Google Analytics? The program can help you track who is interacting with your website and how, which provides the information you need to tailor your website to increase viewers. This is definitely a resource you want to take advantage of! Keep reading to find out how you can leverage Google Analytics to better understand how your website is communicating with your audience.

1. Bring Google Analytics to Your Website
To start using Google Analytics, the first step is to create an account, or if you already have an account, to visit your homepage on Analytics. Once you have your account, you will connect the account to your specific "property"—your website—to begin tracking. A tracking code is required for every page you plan to track. This code can be applied in a variety of ways:
You can copy the code directly into the HTML code of your website.
Your website's platform may also have specific features to allow for Google Analytics tracking. For example, WordPress has a plugin that allows us to insert our Tracking ID on the website without editing the HTML code. Websites like SquareSpace also have similar features.
Once you have Analytics integrated with your website, you can begin using its features to understand and improve your organization's online presence. To check whether your tracking code is installed properly, use Google Tag Assistant, a Chrome browser extension. When your tags appear in green as shown below, you are all set!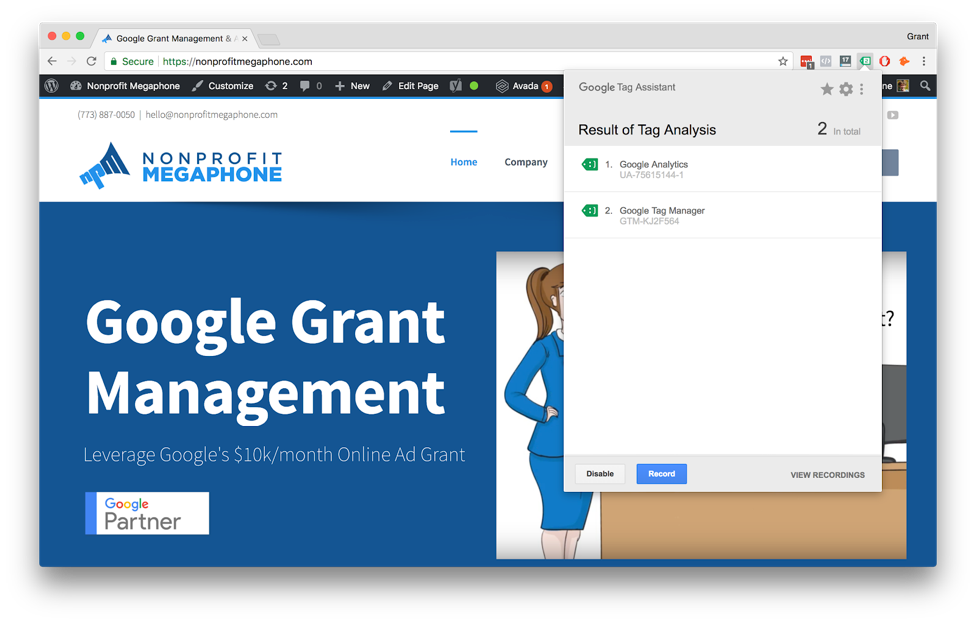 2. Set Your Goals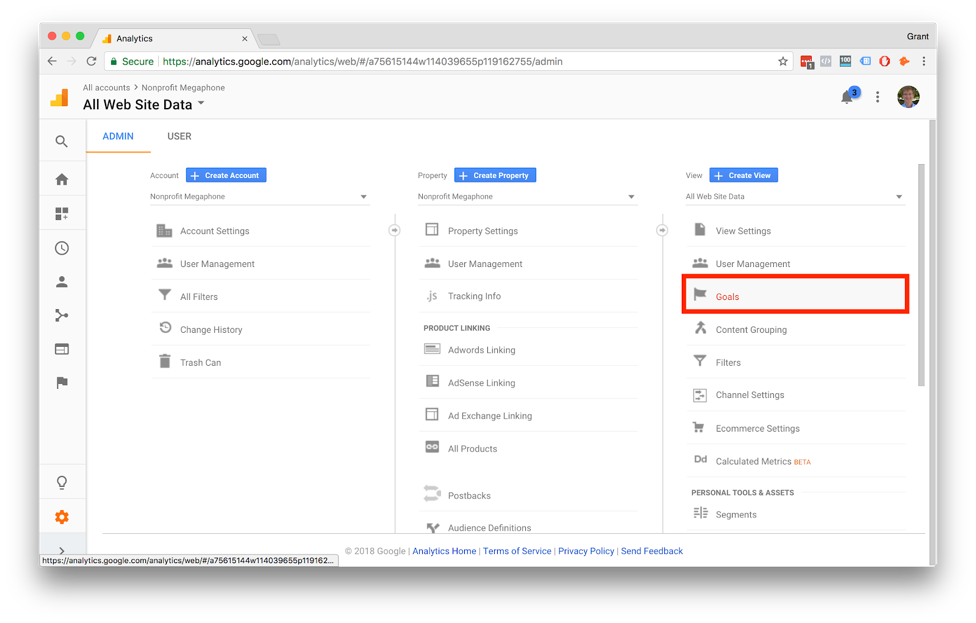 Google Analytics is all about setting goals and meeting them. In Analytics, under the Conversions tab on the left side of the screen, the program allows you to set goals for your website. To set up a goal, Analytics provides options to follow a template, create a custom goal, or develop a Smart Goal.
3. Build on Your Successes
Google Analytics moves beyond allowing you to set your goals and to see if you've met them—the program helps your organization understand how you've achieved those goals. Meeting your goals is great, but the key to success is replicating the process, and then going even further by increasing your audience's interactions with your site.
One way Analytics helps you do this is through following goal paths. Under the Conversions tab, you can track the path that visitors took to reach the destination page required to meet one of your goals. It shows if visitors most commonly came to your page directly from a search engine, from the direct website address, or whether another page on your website led them there. Additionally, visitors will often visit your website more than once before generating a conversion, and Analytics provides information like the most common number of visits before a conversion.
Beyond tracking how visitors engage with your nonprofit's website, you can also track how Google AdWords brings those visitors to your site by integrating your Analytics account with AdWords. If you're not using AdWords, you'll first need to create an account, and as a nonprofit, you could be using the Google Grant to bring AdWords to your organization for free.
Once you've integrated Analytics with AdWords, the software can help you understand which keywords and ads are performing best with users and turning those users into visitors on your website. Analytics can also segment data for targeting more specific audiences, giving you the data you need to craft ads directly for the people you want to reach.
With this information, your organization doesn't need to wonder which ads and webpages are driving engagement and bringing your audience on a path toward generating conversions. Rather, you can move forward knowing which strategies you need to change and which strategies your organization can build upon.